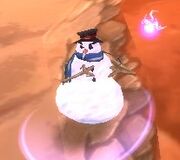 The Feast of Great-Winter, also called the Feast of Winter Veil, is an in-game, end-of-year, week-long holiday event roughly corresponding to Christmas.
Info from the official site
'Twas the feast of Great-Winter

And all through the land

All the races were running

With snowballs in hand.


The cooks were all frantic

And for those "in the know"

Swoops and owls were crashing

Like new-fallen snow.


Cookies and eggnog

Were consumed by all

As the snowballs flew freely

And drunks smashed into walls.


May your feast of Great-Winter

Be one merry and bright

And from all here at Blizzard

We wish you a fun night! 

The Feast of Winter Veil is upon us, and Greatfather Winter is busy spreading holiday cheer in major cites across the land! Here are a few holiday treats players can now experience in-game:
The Jinglepocket Goblins have set up their seasonal fare shops in major cities. Adventurers can purchase many holiday favorites - including Greatfather's Winter ale, candy canes, gingerbread cookie recipes, and mistletoe.
All the cheer-spreading is making Greatfather Winter hungry, and he is looking for adventurers to get him his daily fix of milk and cookies.
Smokeywood Pastures needs a few brave adventurers to investigate the disappearance of a shipment of holiday goods traveling though Alterac.
Unconfirmed reports say that consuming eggnog during a snowball fight can have some chilling results.
Other info
January 2nd is the last day of the Feast of Winter Veil.
Kissing a 'Winter Reveler' under mistletoe will magically create for you 5 sprigs of Mistletoe [1]... You can also get Fresh Holly [2] (x5), which can be used to transform your mount into a reindeer for thirty minutes...
See also
Special items
There are several special items and plans that are only available during the Feast of Winter Veil.
Smokywood Vendors:
Quest/Gift rewards:
Drops:
Related quests
External links
Ad blocker interference detected!
Wikia is a free-to-use site that makes money from advertising. We have a modified experience for viewers using ad blockers

Wikia is not accessible if you've made further modifications. Remove the custom ad blocker rule(s) and the page will load as expected.